Acoustic Ceilings
Acoustic ceiling systems are a cost-effective option for a renovation project or new construction.  With various styles and finishes, acoustic ceilings provide limitless design solutions to enhance the most demanding interior environment.

Acoustic Ceilings are widely used in institutional and commercial projects, and to maintain a cost-effective budget for residential projects.  J.A. Macdonald  uses acoustic tile products in a selection of exciting patterns, textures, designs and colours.  Typical tile sizes are 2'x2' and 2'x4', though non-standard sizes can also be accomodated.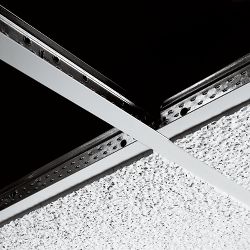 J.A. Macdonald's acoustic ceiling systems offer high sound transfer coefficient (STC) ratings.  These high-quality systems come from such trusted manufacturers as Armstrong, CGC and CertainTeed.